It's claimed there are more people alive than the sum total of people who have lived before; therefore not everyone can have a past life. My own first attempt to piece together all the elements of the as-yet unnamed form of netprov was 2010's Chicago Soul Exchange, which posited an online resale market in past lives.
In the project plan for
Chicago Soul Exchange
, I described the basic conceit of the project this way:
Chicago Soul Exchange
(
CSE
) is a weeklong, partly scripted,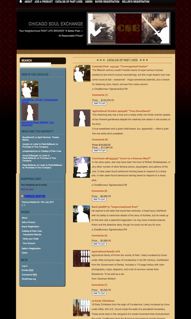 partly improvised collaborative web fiction. It is based on the claim that there are more human beings alive now than the sum total of human beings who have lived before, making it arithmetically impossible for everyone now to have a past life. We posit a secondary market in past lives that sells quality past lives (which turn out to be difficult to harvest) to the highest bidder in online auctions. "Chicago Soul Exchange — Yes, you can have a better past! At competitive prices!" Our story follows a sweet, feisty, small-time entrepreneur as she defends her business against the encroachment of powerful, dangerous, international cartels and attacks from beyond the grave. Unfolding in real time, this "psychological comedy" takes place on the e-commerce website in the form of the auctions and the surrounding discussion forums and social media updates. The main roles are performed/written by a team of writers and designers according to a plot arc focused enough to keep the action fast, furious (and funny) and open enough to invite individual creativity. Reader/users can also participate in the project, bidding on souls, being souls, and taking sides in the raging debates.
With the help of an inner circle of collaborators the story unfolded in timed blog entries
and in comments and bidding on the online Catalog of Past Lives. Outside readers of the
project could bid on lives, make comments and help advance the story if they were so
inclined. This was the first project where I organized the people consciously into inner
and outer circles, laying the groundwork for my current thinking about inner-circle
collaboration and outer-circle participation. Chicago Soul Exchange was a trial run for
the larger and more ambitious Grace, Wit & Charm.
The original plot structure plan of Chicago Soul Exchange involved three levels of plot:
Ostensible Plot The site will function like an e-commerce auction site. The communications will pretend to be structured around three auctions happening during the week and attendant commentary. Major Plot Past Life Maven battles with multinational corporate forces for the survival of her small business and, ultimately, for her own survival. She and her business are rescued, with unintended side effects, by Breguswidth, a dead soul. Minor Plot SpiritualEssence falls in love with a past life she has purchased, Swidhelm. Swidhelm's wife Breguswidth appears out of nowhere to contest the romance.
Performance Preview
At the Electronic Literature Organization conference in Vancouver, Washington in 2008 I premiered Chicago Soul Exchange in a performance/talk. I described the premise of my project, then claimed to have found a real online past life website based in Chicago. E-lit author Donna Leishman helped me out by pretending to volunteer to have a past life "attached" via the Chicago site (which, of course, was of my own creation). After Donna shuddered and went into an appropriately gothic trance, I cancelled my credit card for the transaction and went on with my talk. My netprov buddy Jean Sramek then interrupted my talk by calling me in videochat, claiming to be the Past Life Maven, proprietor of the Chicago site, and to be hopping fricking mad that I had cancelled the transaction. In retaliation she "disconnected" Donna's new past life, which caused Donna to fall limp onto the floor in front of the packed lecture room, where several nice people rushed to her aid. Thanks, Donna! Jean went on to write the part of Past Life Maven in the 2010 performance.