Mem-Eraze is a netprov that explores:
the fragility of cloud file storage in social media, and
the visual traditions of everyday photography, plus
scrapbooking/family archiving culture
Fictional Premise
Mem-Eraze is a support group for former customers who lost their online social scrapbooks in the Mem-or-Eaze Inc. server fire and bankruptcy. Members begin to re-create their lost images with tabletop photography of everyday objects accompanied by expressive captions describing vacations, weddings and other key events.
Technology and team structure
The netprov takes place in tumblr. Original concept by Rob Wittig and Mark C. Marino
Writing and Images by Rob Wittig, Mark C. Marino, Bridgette Webb, Maria Raykova, Sarah Tillery, Ana-Alicia Solis, Katie Porter, Isaac Pringle, Danielle Rosales, Velvet Arriola, Ryan Lau, Atineh Sepanian, Anton Schuetze-Coburn, Raj Bains, Yong Hong, Austin Carter, Edward Ng, Sara Lanier, Graham Stinnett, Teagan Trautwein, & anonymous. Some participants were members of Mark C. Marino's writing class at USC.
Rules of the Game
Featured players were organized into families and brainstormed and developed their characters and relationships. They used everyday objects to compose and photograph scenes from family history. They were encouraged to shoot from low angles and frame pictures in ways that mimic everyday photography. They were encouraged to avoid too many product names and logos. Then they wrote captions to illuminate the fictional moments captured by the images. Players were encouraged to use information from other captions in their own, to weave an interconnected fiction.
Rob's Initial Thoughts
I am delighted with the images and texts that came out of the playfulness of this project. From a storytelling perspective the entries were sweet, funny and wickedly well-observed. Numerous, complex story lines are interwoven beautifully.
There were many, many sweet, funny, touching individual image-and-caption combinations, like this wonderful "first car"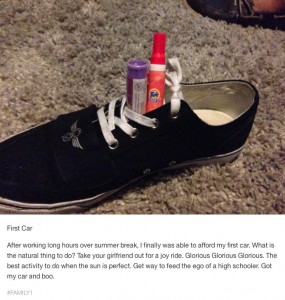 . . . and this trip to the zoo:
I also loved the many running gags and visual/verbal themes that developed. Among my favorites was the glamorization of the ultra-banal, general issue, standard black office stapler, tape dispenser and kleenex box that appeared doing hot yoga on 8.5 x 11″ office paper yoga mats.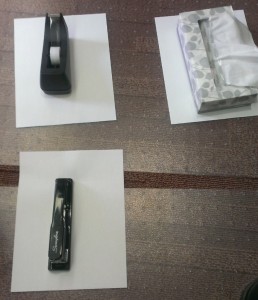 These objects are so universal that it wasn't long before another netprovver had produced another image of the "characters" doing yoga on somewhat smaller mats: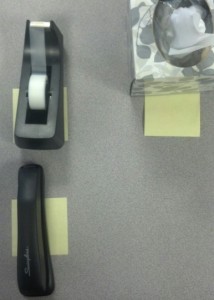 . . .  followed by an even more glamorous echo: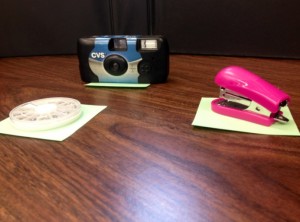 One of the many things I learned from this project was how deeply ingrained (and already sophisticated) are our social media rhetorical tropes for images and captions. The fiction played off of these — and revealed them — beautifully!
Q: Is this project done? Could it be continued or re-staged?
A: You tell me! That's one of the great things about an emerging art form like netprov. Either of those alternatives — and others — are possible. It remains to be seen what netprovers will find most pleasurable for their creativity.